We are responsible breeders of  Bedlington Terriers based in Sydney, Australia. We produce and show quality Bedlingtons, with a focus on temperament, conformation, and structural soundness.  We are very proud to have bred Vice WW 2-20, WW-19 - 18,  EW-18, JWW17, Fioralainn Russian Melody who is with the renowned Russian kennel, L'End Show in St Petersburg.  Our show results speak for themselves.
We believe it is important to put back into the breed, which is why we are one of the few kennel's that regularly import dogs and semen as Australia has a very small gene pool. Its always a good question to ask your prospective breeder when last, if ever, they have brought in new blood.
We are registered breeders with Dogs NSW. 
We're happy to answer any questions you may have about Beddies.  Thanks for visiting!
"

Dogs do speak, but only to those who know how to listen. "
— Orhan Pamuk (author, My Name Is Red)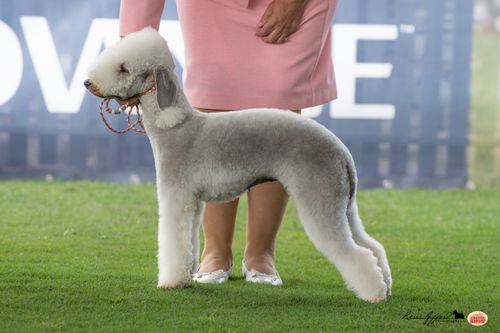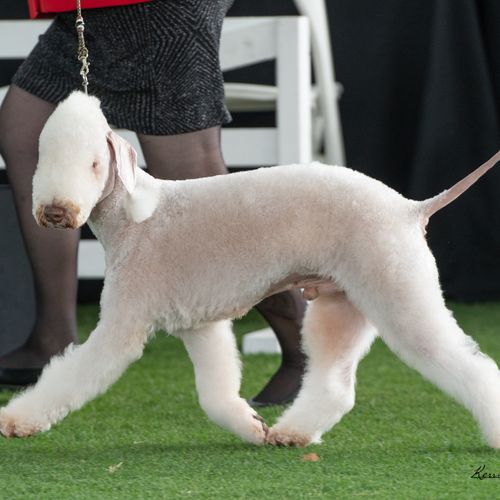 CH Fioralainn Chopin's Choice
JONTY
Jonty strutting his stuff in the ring.  He is available at stud to approved breeders.
Jul 2022
PUPPIES - 4 LIVER BOYS AVAILABLE - 10 days old at the moment
Apologies for such a late update.  Has been a very busy  year and cannot believe we are in mid 2022. I decided to do my Terrier judging licence licence this year which has made weekly showing a bit difficult.
Exciting news is that our semen has arrived from both Slovakia and Poland and our next litter (we are thinking September) we will be using this on one of our girls.
We have started the process for a dog from the UK on 2023.  So fingers crossed.
 Potential September litter - waiting for that special girl to come in to season.
I try and match puppies with their prospective families.  Our puppies grow up in our home, so we get to know them exceptionally well.  We build a relationship with our prospective puppy owners, its not buying a dog and never hearing from us again.  We like to keep in contact and assist where we can as well, if required,  
 We also would like to understand if you have breeding aspirations.  Breeding and showing are a very separate discussion. 
You are visitor number: 13431